Nutrition
"No Kitchen, No Money, No Time" Recipe
Meatless Monday is a very important day for the planet. It asks each of us to take one day to avoid meat products. Why? Eating less meat reduces demand, greenhouse gas emissions, water pollution, and our carbon footprint, all from changing one simple meal choice
Top 3 Reasons to Go Meatless Once a Week
For the Environment:
* Reduce your carbon footprint
* Minimize Water Usage
* Fight deforestation
* Reduce land degradation
* Protect wildlife and plant Biodiversity
* Reduce Greenhouse Gases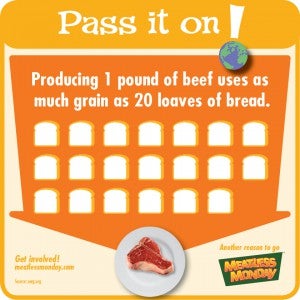 For Your Health:
* Reduce Heart Disease and Stroke
* Limit Cancer Risk
* Fight Diabetes
* Curb Obesity
* Improve The Nutritional Quality of Your Diet
* Live longer
For Your Wallet:
* Curb Healthcare Spending
* Cut Weekly Budget
Recipe from Soul Fire Farm
Soul Fire Farm is a nonprofit Afro-Indigenous-centered community farm committed to uprooting racism and seeding sovereignty in the food system. They raise and distribute life-giving food as a means to end food apartheid. They teach people to farm, educate all of us about food inequities, and empower people of color through and understanding of the food system.
During Black History Month, we want to share recipes from food justice advocates working to empower and change the food system. Let us know if you prepare this recipe. Share your images and comments. And if you know of a Food Justice Organization in the United States, let us know that too!
Oatmeal and Fruit
Boil 2 cups of water or milk. Add ¾ cup of regular oats and ½ cup of fruit (such as chopped apple, banana, raisins, pear, or berries.) Add a pinch of salt and a teaspoon of honey or other sweeteners. Continue to cook on low until oats are soft and creamy, stirring occasionally, about 5 minutes. (serves 2)
Vegetable Soup 
Coat the bottom of a pot lightly with oil, then add one medium chopped onion and 2-3 cloves of chopped garlic. Similar to the onion and garlic in the oil. Add 4 cups of water or vegetable broth and bring to a boil. Add 2 cups of finely chopped vegetables (such as carrots, tomato, greens, celery, squash, and sweet potato.) Continue to cook on medium until the veggies are almost soft. Add 1 cup of cooked/canned beans (such as chickpeas, kidney beans, and black beans.) Add salt, pepper, and herbs to taste (such as oregano, thyme, and basil.) If you did not use broth, mash up a bit of the soup to give the liquid some texture. (serves 4)
Omelette with Toast
Coat the bottom of a skillet lightly with oil and heat it up until water sizzles when dropped on the surface. Crack two eggs into a bowl and beat well. Pour the eggs into the hot oil. Cover the top of the egg with ⅓ cup total of finely chopped onion, spinach (or other green), tomato, and pepper. Add grated cheese as well, if you choose. Use a spatula to fold the egg in half. Flip as needed to cook on both sides. Serve with toast. (serves 1)
Veggie and Fruit w/ Dip 
Mix ½ cup peanut butter and two tablespoons of honey in a bowl. Slice one apple, one carrot, and one celery stalk. Dip the fruits and veggies in the peanut butter mixture and enjoy. (serves 2)
Black History Month
It's Black History Month, and we're taking this opportunity to learn and share more about Black History in relation to food, farming, and food justice.
Black History Month originally started as a way to educate students and young people about Black and African-Americans' contributions, triumphs, and struggles, and it has continued to be a time for commemorating and recognizing their integral role in our history and culture. Their stories are a critical part of our history here in Southern California. Food Finders is always looking for ways to educate and inform people on Food Waste, Food Justice, and the diverse culture that surrounds us–including the many people we serve 365 days a year!
Many significant Black figures have shaped our agriculture system and spearheaded the fight for food justice. We hope that you enjoy this recipe and you take the time to learn more about #MeatlessMonday, #BlackHistoryMonth, and #SoulFireFarm